Thông tin sản phẩm
Phần mềm bảo mật, diệt virus BitDefender Security for File Servers Advanced 25-49 User 2Y

Bitdefender Security for File Servers is a data security solution especially dedicated to Windows- based servers. Easy to install, configure and manage, it effectively offers world-class protection from viruses, spyware and rootkits, while lowering the burden of administrating a server software solution


TÍNH NĂNG CHÍNH
File Servers - The Backbone Of The Network
File servers are not just a network repository for the companys files. Unlike their name suggests, File Servers provide critical infrastructure services to ensure communication and interoperability between desktops, printers, and other resources found within the network.
System administrators can sometimes disregard best practices when problems arise - surfing the Internet from a critical server looking for system utilities or security tools to fix a critical issue, invariably infecting the server with unwanted spyware, adware, a Trojan or a virus. Worms can also propagate throughout the network and infect a Server without warning, and unless protected, the critical network services they provide will become unavailable to user community greatly impacting the companys productivity.
Companies can protect their File Server deployments from attack by using Bitdefenders ability to scan for malicious code in files, maintain system integrity, help ensure compliance to corporate security policies and prevent sensitive data from being distributed outside of the organization.
Features
Securing File Servers With Bitdefender
Bitdefender Security for File Servers provides a number of features targeted towards the small and midsize businesses.
Threat Detection And Prevention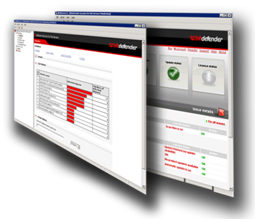 File and system level virus detection, cleaning and quarantine
Scans all files, including compressed files for viruses, spyware and rootkits

Custom antivirus scanning profiles (high, medium, low, custom ) to allow improved flexibility

Quarantine infected or suspected files, minimizing risk of propagation

Safely restore quarantined files to original location once verified
Optimized Performance And Stability
Multi-threaded architecture creates parallel instances of scan engine, minimizing processing time and impact

Session based scan optimization reduces performance impact by scanning files once unless accessed again

Integrates with Bitdefenders Management platform for centralized Gateway, Endpoint and Server administration

Centralized dashboard provides deployment status overview with alert thresholds
Defense In Depth
Bitdefender Security for File Servers is just one element in a comprehensive suite of solutions providing end-to-end protection from the gateway to the desktop. Bitdefenders proactive, multi-platform products detect and stop viruses, spyware, adware and Trojan threats that can compromise your network integrity.
Technology
Advanced, Proactive Detection
Optimized for File Server environments, Bitdefenders award-winning scan engines have been recognized by leading certification bodies, - including ICSA Labs, Virus Bulletin, and West Coast Labs - for their unmatched proactive antimalware protection. Bitdefender provides multiple levels of advanced protection;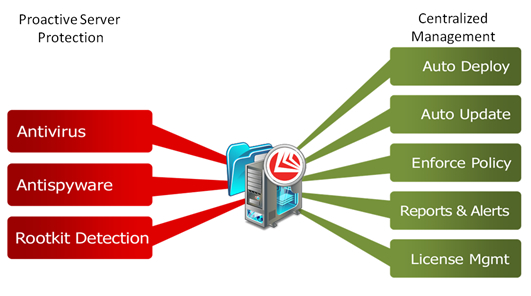 Bitdefender Security for File Servers offers proactive protection and centralized management
In addition to signature based detection, Bitdefender Security for File Servers provides heuristic detection that emulates a virtual computer-within-a-computer, checking all files and code for malicious behavior. This technique produces fewer false positives and significantly higher detection rates for zero-day and unknown threats.
Optimized Scanning
The file scanning process is enhanced by Bitdefenders new optimized scanning technology that significantly cuts on-demand scanning times. The optimized scanning maintains a database of already scanned and known to be safe to avoid scanning them again. Therefore the scanning speed is improved and also system load is reduced.
Granular Scan Configuration And Management
Bitdefender Security for File Servers provides on access, on-demand and scheduled scanning methodologies to detect malicious code and use for file quarantine for any infected or suspected files to safeguard the integrity of the file repositories.
Automatic Updates
Bitdefender Security for File Servers offers intelligent updates once an hour with new virus definitions and restricted content database, ensuring your File Server deployment is current with the very latest threat protection.
Integration With The Bitdefender Central Management Platform
Bitdefender Security for File Servers provides integration with the Management Servers Security Dashboard, giving Administrators enterprise-wide visibility into their network resources and overall security posture. The Bitdefender Management Server provides a centralized point for remote installation, configuration and reporting of all Bitdefender Clients, Server and Gateway products deployed within the enterprise and notifies administrators of scan performance, infections and update tasks through its comprehensive alert module.
System Requirements
Performance And Security
Bitdefender optimizes their security solutions to ensure minimal system degradation and maximum operational performance.
Intel® Pentium compatible processor:
- 32-bit minimum 500 MHz/ 64-bit any Intel or AMD x64 processor
RAM memory:
- 512 MB recommended, 2 GB for Windows Server 2012
Hard disk space:
- minimum 1 GB of free space on the hard drive
Operating System
- Windows 2000 Server, Advanced Server, Datacenter Server, SBS (Small Business Server) SP4 + Update Rollup 1 v2
- Windows Server 2003 SP1, Windows Server 2003 R2, Datacenter Edition, SBS (Small Business Server)
- Windows Server 2008, Windows Server 2008 R2, Datacenter Edition, SBS (Small Business Server)
- Windows Small Business Server 2011 Standard
- Windows Server 2012
Supported web browsers
- Internet Explorer version 6.0 or higher
Facebook Reviews