Thông tin sản phẩm
Windows® Embedded Server là hệ nhị phân giống với Windows Server, với các tính năng bảo mật, độ tin cậy và tính khả dụng được cài sẵn để sử dụng trong một giải pháp nhúng bao gồm phần cứng ứng dụng và phần mềm ứng dụng. Windows® Embedded Server cho phép các nhà sản xuất thiết bị gốc - OEM dễ dàng thiết kế, xây dựng và triển khai các giải pháp chuyên dụng hơn.
Windows Embedded Server cũng là một thành viên của hệ điều hành Windows Server được phát triển trên nền tảng Windows Server 2012-2016-2019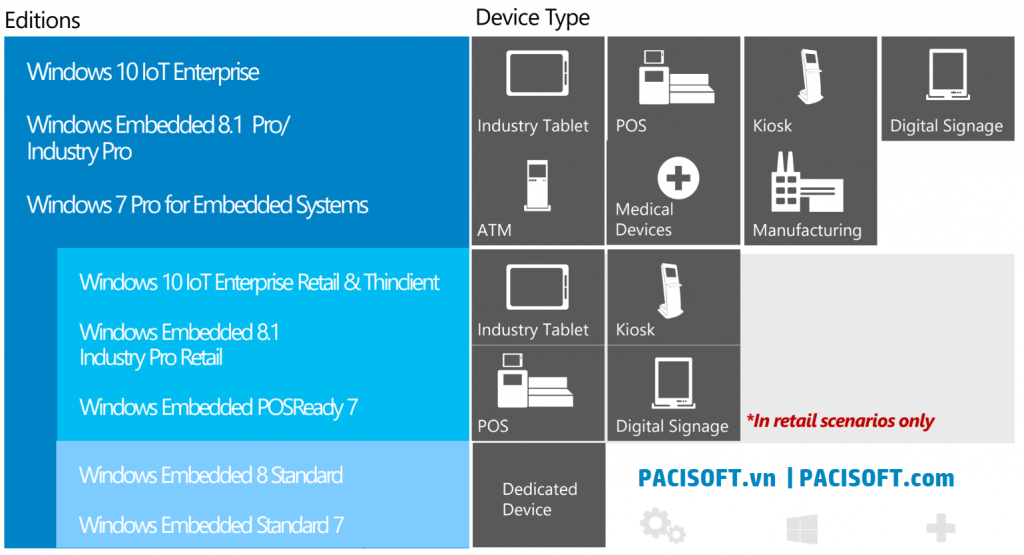 Có các phiên bản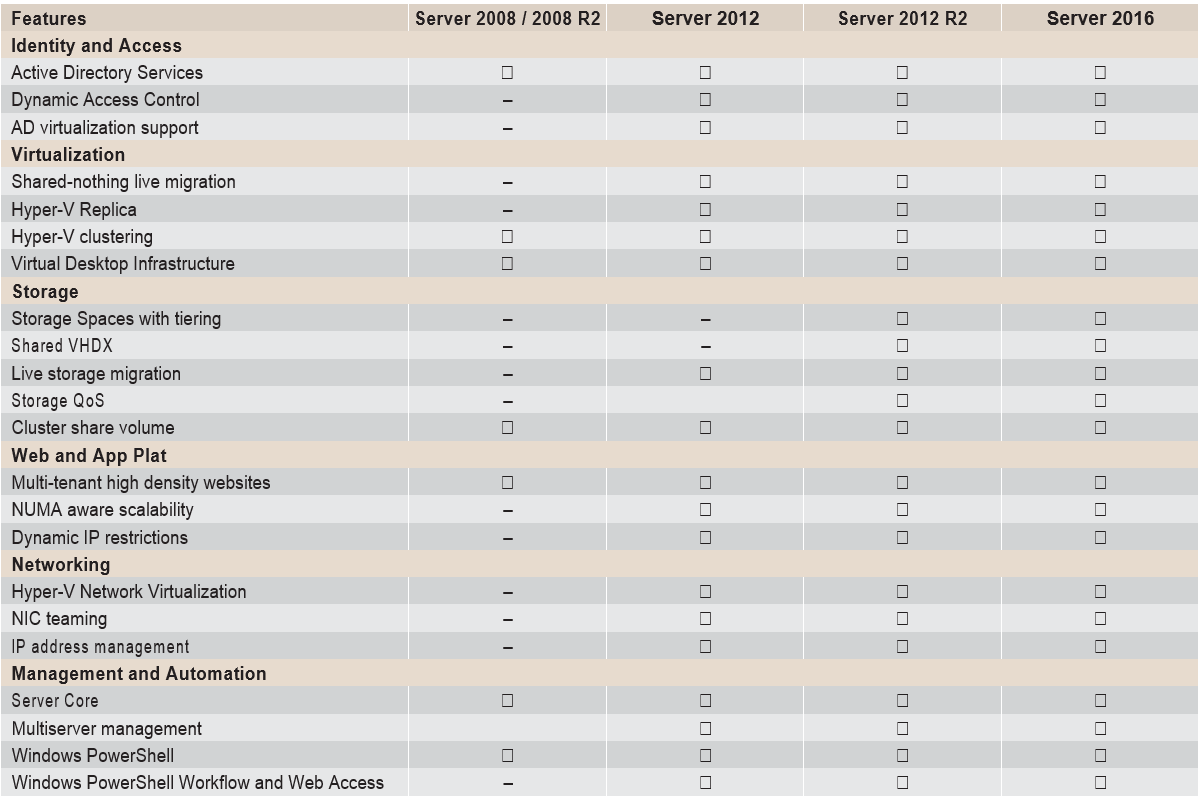 Tính năng chính
Windows Server for Embedded Systems offers a dynamic infrastructure that can scale and secure workloads, and increase hardware ROI and reduce total cost of ownership.
The platform features diverse storage choices that can help achieve high performance, availability and resource efficiency through virtualization and optimization.
Windows Server for Embedded Systems also automates a broad set of management tasks, and simplifies deployment of workloads, helping move an organization toward full, lights-out automation and easy remote management.
Deliver centralized access and audit policies, leverage built-in security capabilities, and help lock down your appliances.
Cấp phép - Licensing Model
Windows Server 2016 for Embedded Systems
| | | |
| --- | --- | --- |
| Feature | Standard | Datacenter |
| Cores | Each license covers up to 16,20, or 24 Cores | Clients Access Licenses required. |
| Virtualization Rights | Two virtual instances | Unlimited virtual instances |
Windows Server 2012 For Embedded Systems and Windows Server 2012 R2 For Embedded Systems
| | | |
| --- | --- | --- |
| Feature | Standard | Datacenter |
| Processor supported | 1-4 | 1-4 |
| Virtualization technology | 2 to 4 virtual license instances | unlimited virtual license instances |
Windows Server 2008 For Embedded Systems and Windows Server 2008 R2 For Embedded Systems
| | | |
| --- | --- | --- |
| Feature | Standard | Enterprise |
| Processor supported | 1-4 | 1-8 |
| Virtualization technology | 2 to 4 virtual license instances | unlimited virtual license instances |
Sản phẩm và vòng đời
Windows Server 2016 for Embedded Systems

| | | | |
| --- | --- | --- | --- |
| Microsoft PN | Item Name | End of Support | End of License |
| 9ZU-00056 | Win Svr Emb Dtcntr 2016 64Bit MultiLang ESD OEI 16 Core | 2027/1/11 | 2031/12/31 |
| 9ZU-00057 | Win Svr Emb Dtcntr 2016 64Bit MultiLang ESD OEI 24Core | 2027/1/11 | 2031/12/31 |
| 9ZU-00043 | Win Svr Emb Dtcntr 2016 64Bit MultiLang ESD OEI 4Cr NoMedia/NoKey AddLic | 2027/1/11 | 2031/12/31 |
| 6FA-00297 | Win Svr Emb Std 2016 64Bit MultiLang ESD OEI 16 Core Std | 2027/1/11 | 2031/12/31 |
| 6FA-00298 | Win Svr Emb Std 2016 64Bit MultiLang ESD OEI 20 Core Std | 2027/1/11 | 2031/12/31 |
| 6FA-00299 | Win Svr Emb Std 2016 64Bit MultiLang ESD OEI 24 Core Std | 2027/1/11 | 2031/12/31 |
| 6FA-00308 | Win Svr Emb Std 2016 64Bit MultiLang ESD OEI 4Core NoMedia/NoKey AddLic | 2027/1/11 | 2031/12/31 |
| 6KA-00073 | Win Svr Emb CAL 2016 64Bit MultiLang ESD OEI 1 Clt Device CAL | 2027/1/11 | 2031/12/31 |
| 6KA-00074 | Win Svr Emb CAL 2016 64Bit MultiLang ESD OEI 1 Clt User CAL | 2027/1/11 | 2031/12/31 |
| 6KA-00075 | Win Svr Emb CAL 2016 64Bit MultiLang ESD OEI 5 Clt Device CAL | 2027/1/11 | 2031/12/31 |
| 6KA-00076 | Win Svr Emb CAL 2016 64Bit MultiLang ESD OEI 5 Clt User CAL | 2027/1/11 | 2031/12/31 |
| 6FA-00300 | Win Svr Emb Std 2016 64Bit MultiLang ESD OEI 5 Clt 16 Core Std | 2027/1/11 | 2031/12/31 |
Windows Server Standard / Enterprise 2012 R2
| | | | |
| --- | --- | --- | --- |
| MS PN | Item Name | End of Support | End of License |
| 6FA-00235 | Win Svr Emb Std 2012 R2 x64 EMB MultiLang ESD OEI 2 CPU Std | 2023/1/10 | 2027/6/30 |
| 6FA-00241 | Win Svr Emb Std 2012 R2 x64 EMB MultiLang ESD OEI 2 CPU 5 Clt Std | 2023/1/10 | 2027/6/30 |
| 6FA-00244 | Win Svr Emb Std 2012 R2 x64 EMB MultiLang ESD OEI 2 CPU 10 Clt Std | 2023/1/10 | 2027/6/30 |
| 6FA-00238 | Win Svr Emb Std 2012 R2 x64 EMB MultiLang ESD OEI 4 CPU Std | 2023/1/10 | 2027/6/30 |
| 6FA-00247 | Win Svr Emb Std 2012 R2 x64 EMB MultiLang ESD OEI 4 CPU 5 Clt Std | 2023/1/10 | 2027/6/30 |
| 6FA-00250 | Win Svr Emb Std 2012 R2 x64 EMB MultiLang ESD OEI 4 CPU 10 Clt Std | 2023/1/10 | 2027/6/30 |

Các Version Enterprise, Std 2012, 2008 R2 vui lòng liên lạc PACISOFT
Giá bán
Liên lạc với PACISOFT để có giá chính xác cho doanh nghiệp bạn
• 968TWE8IR1 Win EMB Industry Pro Retail 8.1 EMB MultiLang ESD OEI
• 968TWPOS7X Win Embedded POSReady 7 32-bit/x64 EMB ESD OEI Runtime
• 968TWEPOS3 Win Embedded POSReady 2009 EMB ESD OEI Runtime

Về yêu cầu hệ thống có thể xem tại https://docs.microsoft.com/en-us/windows-hardware/design/minimum/minimum-hardware-requirements-overview
Biên tập: PACISOFT 11/2018. Nghiêm cấm sao chép
Facebook Reviews
Bạn cũng có thể quan tâm đến các sản phẩm sau